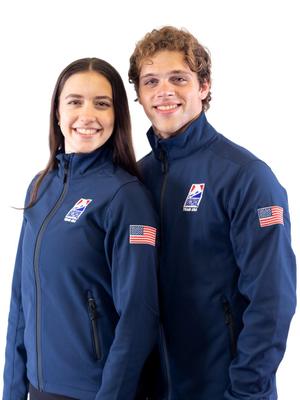 Most of us will never know what it feels like to compete for Team USA at the Winter Olympics…  but we can know how it feels to help some deserving young Americans get their chance.
Think how great it would feel to help a brand new, extremely talented, American ice dance team, Caroline Green and Michael Parsons — both of whom are former U.S. National Champions and both competed with their siblings for Team USA — who have now teamed up to continue their journey in this beautiful but incredibly competitive and expensive sport.  Now's your chance!
Caroline Green and her brother Gordon won the 2019 U.S. Junior Championship together.  Michael and Rachel Parsons won the 2017 U.S. and World Junior Championships together and were named alternates to the 2018 U.S. Olympic team. With both their sibling partners now retired, Caroline and Michael have now teamed up and are already rising through the senior ranks, but they need your help.
The training costs to compete at this level are daunting each year it costs $30,000 – $40,000 for each skater to train and compete at this level.  This includes all the costs for ice time, coaching fees, off-ice training, skates, costumes, travel, and more – which is why we need help from sponsors like you to help carry the load.
Over the last few seasons, we've raised over $70,000 from our sponsors and friends. This year, we need to raise another $12,000 to help train this exciting team so they can be ready to compete and win against the world's best. They have the skills and talent to make it!
YOU can help give them the financial support they need to continue their training all the way to the Olympic stage.
If you would like to support us by making a tax-deductible donation via the New England Amateur Skating Foundation, please use our 2024 Schedule and NEASF Form.
We would be so grateful for any support you could provide and are happy to list our sponsors on our new website (if you wish).
Caroline & Michael